Desktop Interaction
I know that the web has gone flat, and I'm OK with that. And, at least for me, flat graphics are easier to design. That said, I still really like a bit of realism once in a while. I recently posted a couple of skeuomorphic demos, with free downloads. Today though, I went back to Dave Anderson's e-learning challenge #5: Desktop Office Templates.
Check out the demo
As it so happens, my idea for a medically-inspired desktop theme was not received with the enthusiasm I had hoped, so I re-vamped it. Click Play below to see the live version, and I'll share the download with you at the end of the post.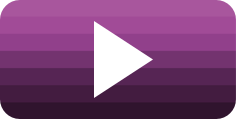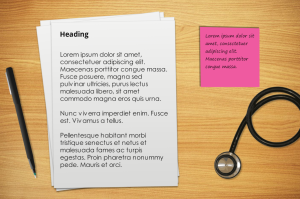 Assets
Many of the images came from Pixabay. I say this a lot, but Pixabay is a great site for images, both photographs, illustrations and even vectors. They are free even for commercial use, so make sure to buy them a cup of coffee every now and then.
The manila folder comes from ELH community free download. I wish I could credit it here, but it was so long ago I cannot remember who posted, my apologies.
The post it notes, tabs, papers and folder I created in PowerPoint. I'm happy to share those below too.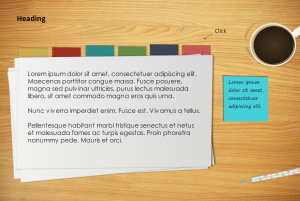 Adapt
This template contains 6 layouts. Naturally, you can extend it, change the colours, fonts (I used Century Gothic), position of objects, and anything else. If you do use it, send me a screenshot, I'd love to have a look.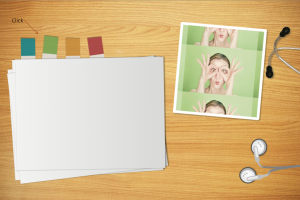 Any questions or comments, leave them below and I'll be sure to get back to you. If you'd like to download the Storyline source file, click below. Ditto for the PowerPoint graphics, plus a few bonus (random) graphics.