October has been a great month.
Aside from me working on a bunch of interesting projects for great clients, my little girl has started her transition from kindergarten to primary school. We're both pretty happy with how things are going.
It's also seen the launch of our new brand for e-learning development: storylinedeveloper.com.au.

The website is pretty scant right now, but it gets across the basics of what we do. Heck, it's much the same as we've been doing for years, except that now we've got our own bright and beautiful part of the internet in which to yell about about it.
The website has been custom-designed by a friend, who says it ought to be responsive and to work on pretty much all modern browsers and devices.
I really like the gradual colour shift as you scroll down through the pages, and the way that the navigation tabs gel with that aesthetic: it's neat.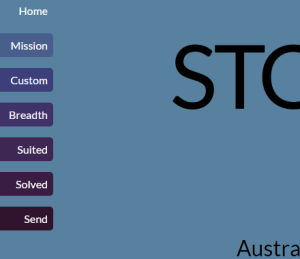 A proper portfolio page is scheduled for development, hopefully replacing the client list. Which other sections do you think should be a priority for renewed attention or expansion?
Having said all that, device testing has not yet been very broad. The site uses SVG images and vh units of measure, so there is likely to be issues with older versions of Safari and Internet Explorer.
If you notice any unexpected issues or display problems, I'd really appreciate you letting me know: leave a comment on this post or test out the contact form at the very bottom of the storlinedeveloper.com.au page.