Last week's e-learning heroes challenge was all about zooming images in e-learning.
Now, I love desserts. I love to make them, I love to share them, I love to eat them. So, for this challenge I decided I'd create a desserts menu in Storyline.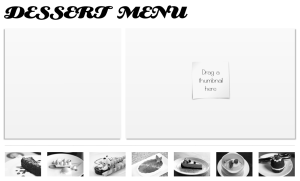 Design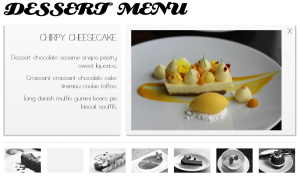 I started with a wooden background simulating a tabletop and a clipboard for a menu, but decided it looked a bit too rustic for my yummy dessert images, so I changed tack and settled on a minimal, elegant, white theme.
I really like drag and drop interactions so I combined drag and drop with zooming. I created black and white thumbnails of my desserts to be dragged into the menu. When the user does so, the image zooms in to glorious colour using a circle entrance animation. I added a close button to each zoomed dessert, but also the ability for the user to simply drag another thumbnail onto the zoomed image. To finish it off, I added some elegant, classical background music, 'cause that's how I eat my desserts.
Try it for yourself by clicking Play below and let me know what you think in the comments. It works great on PC, tablet and phone.