This week,  the e-Learning Heroes challenged us to find engaging ways of teaching maths concepts.
Now this might initially seem unrelated, but my kids love the EJ Spy School books. Recently, we read one of them where the eponymous character has to crack a code to get into the Spy School. Riveting stuff, for the kids anyway. The code EJ had to solve was your typical substitution cypher where numbers are replaced by letters. My wee ones might not have immediately solved it themselves, but they understood how it worked once EJ explained it. Kids dig that sort of stuff, especially when it's not called homework.
So, that seemed like a simple little concept that could easily be twisted into a maths activity rather than a literary device for kids fiction. They use their  number smarts to figure out a combination to win whatever whatever. The details would come later…
I visited my friend Google to ask her if she new anything about code games for kids. She came up with a few cool suggestions, including this one, ever-so-aptly entitled 'Code Game for Kids':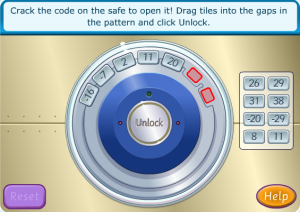 Some people might say 'dang, I guess my idea is not unique' but I just took it as a sign that the idea was so awesome that it had been emulated in advance. Still, it was a sign that I needed a unique take on the core concept to make my interaction stand out.
To workshop the look and feel, I used Niice and quickly created a moodboard.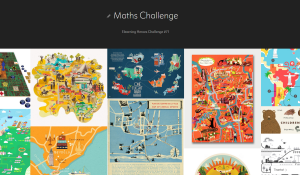 Seeing as this was a love project, I decided to let my existing image library serve as the inspiration for the narrative and I started looking for a childish aesthetic that would match my moodboard.
I need look no further than the C's in my library to uncover a few sort-of-matching sets.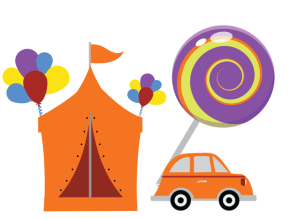 With that as the basis, it seems only natural that the game should require kids to crack codes on their way to the circus, because, as everyone knows, you can get really tasty lollipops at the circus.
After some tinkering, I came up with an overall look that I was happy with.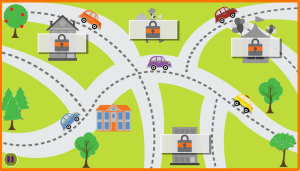 Are you still here? Well, you can stop that right now. Go test your kid-level code-cracking skills.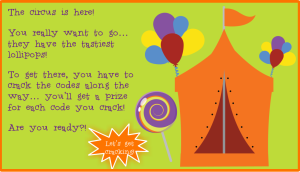 Click the play button below to decode your way to the sweetie circus!