Every week, Dave Anderson at E-Learning Heroes sets an e-learning challenge for developers. They vary in length and requirements, but typically involve creating a short interaction that illustrates a practical point. They're the sort of activity that all developers cut their teeth on: things that motivate you to explore your software and find practical methods that can later be transposed into real world situations.
These days, I'm a bit busy to dedicate much time to it, but I still enjoy checking in and seeing what the challenges are and how the different people have approached their solution. Aside from personal interest, it's a good way to see who the upcoming talent is and what new perspectives they're bringing. I'd love to participate in them a lot more myself: we can all use a jolt for our creativity and problem solving from time to time.
This week's challenge involved creating a poster with a tip (or series of tips) for e-learning freelancers. Being such a short, sharp activity, I simply had to throw in an entry. Of course, even the simplest of concepts takes a bit of time to refine and execute.
Many things came to mind when I started thinking about what the content should be:
keep your work-life balance
manage client expectations
beware of scope creep.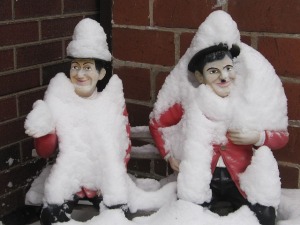 All of these things are important, but, I asked myself, why does a client hire an e-learning freelancer?
Here's where that thought led me this evening:
What do I think this is the one to go with?
When a client outsources e-learning (or anything), they do it because they've got a problem that they want someone else to solve. So, that's what freelancers must do: be the solution.
Typically, this means that the client wants to hand over a brief to their trusted service provider/sorcerer and receive a fully-formed solution in return. But not always.
Some clients want to feel like a part of the development team. Such leaders often like to be consulted at every step. How should freelancers handle this? It's pretty darn simple, really: use it to your advantage. Extra guidance can totally make your life easier. You don't need to ponder which way to go on matters of taste, you can just ask. Getting approval along the way means that your client takes mental ownership of your deliverables before they're even complete, and that is a really good thing.
Remembering that it's just a poster, you can look at the live version below. It's just the same poster, except bigger, and it moves.